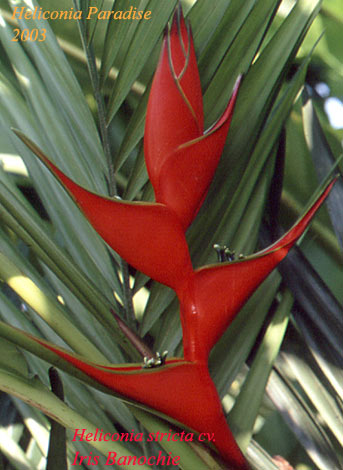 Heliconia stricta cv. Iris Bannochie - Heliconiaceae
( Named after Iris Bannochie the founder of the Andromeda Botanical Gardens - Barbados )
Growing 5' to 10 ' ( 1.5 m to 3.0 m ) high in full sun to light shade.
This is one of healthiest and richest blooming varieties suitable for cut flower production.
Inflorescence consisting of 4 to 8 pure red bracts which have a thin green to orange line along lip.
Sepals dark emerald-green with contrasting white tips.
A very attractive medium sized Heliconia which for some reason seems to be less known than it should be.
Easy to grow and capable to adjust to less suitable conditions.