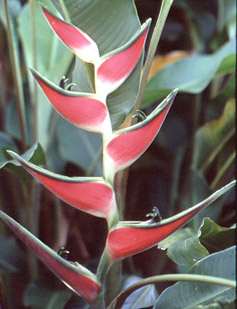 Heliconia orthotricha cv. Imperial - Heliconiaceae
Growing about 5' to 7' ( 1.50 m to 2.10 m ) high in full sun to light shade.
Inflorescence usually carrying 5 to 10 bracts. Pinkish red over most of bract.
Maroon-green line along lip. Cream to white at base and along keel proximally.
Rachis of lower bracts green, white to cream on upper bracts. Bracts surface covered
with velvety hairs. Blooming: All year round.
One of the best of this group because of its willingness to produce flowers.
Other best performers in tropical lowland climate are: 'Macas Pink' and ' Oriole Orange'