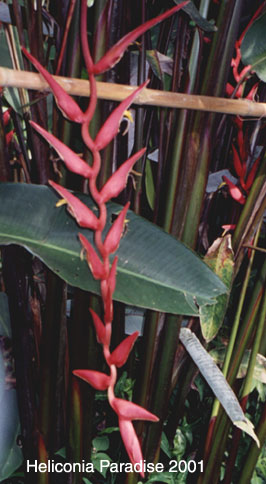 Heliconia longa - Heliconiaceae
Heliconia longa is a 12' to 25' ( 3.60m to 7.50m ) high growing species from South America
which produces a very long inflorescence which can carry up to 60 bracts. These are red,
sometimes slightly orange red and carry yellow or golden-yellow flowers. Rachis red or red and
cream.
Leaves are covered with a white waxy coating on lower surface.
An elegant and still rather rare Heliconia which will grow in full sun to 50% of shade.
Very limited supply due to very slow rhizome propagation.