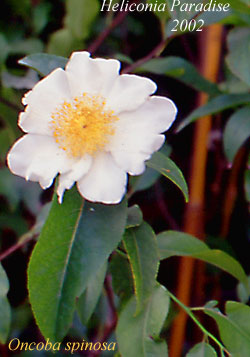 Oncoba spinosa - Flacourtiaceae
Oncoba is a shrub which grows 6' to 10' ( 1.80m to 3.00m ) high in full sun preferably.
Leaves dark green, lanceolate, 1" to 2.5" long ( 2.5cm to 7.5cm).
Plant produces beautiful white open flowers which are fragrant and carry nicely contrasting
yellow stamens.
Oncoba is somewhat reminiscent of Stewartia which is a rare beauty in the temperate regions
but unlike Stewartia the branches are armed with spines.